Silage Wrap advice on film colour and how many layers.
Back in 2002, a study conducted at the Reading University UK / CEDAR (Centre of Dairy Research) drew a comparison with the effects of differing silage wrap colours and number of outer wrap layers to the resulting silage fodder spoilage in silage bales.
The study looked at the relationship between the colour of the film used in wrapped silage bales and the number film layers used when wrapping bales and how that affected wastage within the bale itself. Dry matter content and crop quality were noted from harvested samples when baling. Two colours of film were used when trialling- green and black. Both colours were trialled in eight, six and four layer wrapped bales.
Upon opening the bales, the directive was to remove, weigh and record any visible waste. To establish actual waste in the bales, the new dry matter content was determined.
The silage bales were left together in a controlled environment for four months before being opened to asses the quality of the contents and assess what differences, if any, were evident.
Following this, sample results were noted.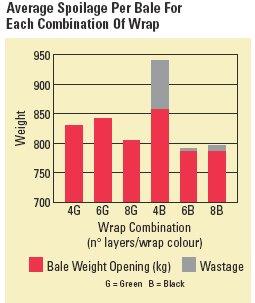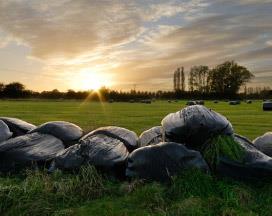 The overwhelming observation was the difference in wastage between the green silage wrap bales and the black silage wrap bales. The other main difference was noted in the waste levels difference in the black silage wrap according to the number of layers used on the bale.
Interestingly, there was NO noted spoilage in the bales wrapped in green silage wrap, regardless of how many layers of film was used to wrap the bales. This outcome was surprising in comparison to the bales wrapped in black silage film.
Bales wrapped in black film showed spoiled matter up to 76 kilograms in 4 layered wrapped bales. 6 layer wrapped bales fared better at 2 kilos wastage per bale. 8 layer wrapped bales showed 8kg wastage / bale. This was from an average bale weight of 862 kilos.
The results, as displayed on the table above, would indicate a much better fodder yield in bales wrapped in green silage film and may possibly be linked to the UV level factors and therefore impact of spoilage on wrapped silage bales. Also in regards to black silage film, it would perhaps indicate that there may well be merit in increased layering of silage film to protect yield within the silage bales.