Silage Covers / Silage Pit Covers
"Our Silage Covers are warranted for 18 months against UV degradation"
With a high oxygen barrier that allows for complete fermentation and preservation of stored feed nutrients, our silage pit covers feature a high level of UV high light protection (3%).
They're warranted for 18 months against UV degradation, which is incredibly important in the high UV environment that we face here in Australia (they're rated 180 UV kilo-Langley, which is the highest in the world).
Produced with the strongest and most durable film resins available, the silage sheet covers can withstand the harshest conditions in Australia and New Zealand.
A black inner layer provides 100% sunlight protection to give a uniform level of feed quality and reduced protein breakdown, while the white outside layer helps to keep stored silages cooler by deflecting the heat of the sun. This effectively reduces bunker heating and DM losses.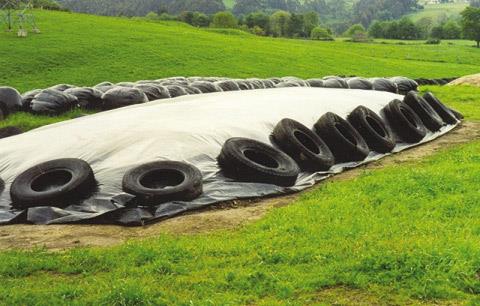 Silage pit covers in the field
How important is it to have the correct Silage Cover?
It is incredibly important to have the very best silage covers in Australia. Why? There are plenty of reasons you should want to improve the quality of your silage. The fact is, preparing silage is a pretty big undertaking in itself. There's the hiring of contractors, mowing at the right time, not to mention being at the mercy of the weather. So, if you're going to all that effort, you want to make sure you get the maximum benefit from it.
The best way to ensure you maximise returns on the time and money you put into baling and preparing silage is to have the best silage covers.
Using quality silage films and covers doesn't just deliver long lasting protection. Ultimately, it's all about the quality of the silage fodder inside. Using high quality silage covers protects your silage from oxygen ingress and excessive heat from the sun, which improves feed conservation. Meanwhile, the black underliner reduces the transfer of light, creating a better environment for fermentation. Ultimately, this means a higher quality of silage, packed with more nutrients.
Silage quality is measured in megajoules of metabolisable energy (ME) per kilogram of dry matter. Generally, 10.5 – 11 ME is considered high quality, and should allows cows to maintain or increase levels of milk production throughout lactation. However, if you drop down to poor quality silage (8.5 ME or less), you'll need expensive supplements to achieve that result.
So, whichever way you look at it, the quality of your silage matters, and will have a huge financial impact on your operations. So don't cut corners and go with cheap, unreliable silage covers. Quality covers deliver the best results.
Quality Silage Covers to Protect your Silage
Everything you do in an agricultural and farm environment generally has an impact on your bottom line. That's why it makes sense to choose silage covers that enhance the quality of your feed. The flow-on effect of choosing high-quality silage covers is obvious. If the silage is high quality, your livestock needs less of it to get the metabolisable energy they need. Then, on top of those savings, you also getter better and longer milk production without the need for additional supplements.
Just like anything else, producing silage is just one aspect of your operation, but it's still an important one. And much like everything else you do, cutting corners only leads to problems down the track. The smart operators invest in quality materials and products from the start, and that's why you should choose the best silage covers and silage pit covers in Australia.
Make the smart choice. For uniform feed quality and the best UV and sun protection in the world, backed by an 18-month UV degradation warranty, look no further than Silage Wrap Australia.
Call us or email us to find out more about our silage bunker covers. We specialise in providing the very best silage solutions for all type of farming operations. You can find all of our details on the Contact Us page.
Silage Cover Specifications Table