We want you to have the best net wrap products that are available on the market. So what sets our net wrap apart from the rest and what does that mean to you when you use it?
Advantages of our Net Wrap
Our net wrap is made from high quality, food grade, HDPE resin with a high UV rating from a stabilized master batch, every time. The benefit to you is that you can rest assured our net wrap will last in the harshest environments, and perform brilliantly in the toughest conditions Australia can dish out.
Speaking of high quality, our net wrap performs with a very uniform spread, excellent tensile strength, sufficient elongation with no inbuilt weaknesses. This is due to the same materials being used consistently throughout the construction of the net wrap design. This means that with our net wrap you get an even finish on your wrapped hay bales every time, with less breakages and excellent longevity.
Our bale netwrap comes in both 'side to side' coverage running from one edge to edge opposite on the bale, but not covering over the edges. Also wide edge net in a 1.25m width, as well as over edge options, where the net acts to cover edge sides of the bale. Be it for hay, straw or silage bales we have the product to suit your machinery and your requirement.
We also guarantee the lengths of our net wrap so you get exactly what you pay for every time, without the high price tag. When you buy from us you can rest assured you will receive the best, highest quality net wrap available. We stand by it!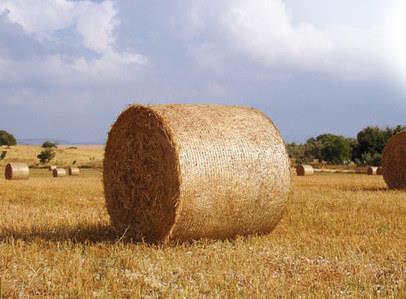 A round bale of net wrap in the field
How many bales will a roll of netwrap make?
This is a commonly asked question and there are a few variables to consider here as follows below. 
We strongly recommend the  '3 / 4 / 5 Rule'.  That is –  Silage bales = 3 x around / Hay bales = 4 x around / Straw bales = 5 x around.
More net may be used due to differing variables or circumstances, such as crop types, length of chop, diameter of bale, storage conditions, transport & handling, density of baler.  Most of the newer breed of balers are allowing higher compression and bale weight, so please consider this carefully if you have upgraded to new machinery and your baling practices have changed.
The information above has been provided to us by our industry partners, feedback by users, machinery agents, manufacturers and related associates, to provide a favourable outcome for the storage of fodder. Any operator must take into consideration the specific job at hand when making their decision.
A good net usage formula that can be applied is as below
Diameter of bales x 3.15 x number of wraps = amount of net per bale, divide that into length of roll and that will give you the approximate number of bales per roll.
Silage bales are nearly always 4' diameter so the formula would be as follows – 4' (1.23m) x pi (3.15) x 3 wraps around = 11.58m per bale. Divided into a 3000m roll = 259 bales.
Hay bales at around 5ft 2" width would be a fairly normal size.  Our recommendation would be – 5'2" (1.58m) x 3.15 x 4 wraps around = 19.91m. Divided into a 3000m net wrap roll = 151 bales.
Straw at 5ft bales are the 'heavyweight champ' and therefore require more net. Our recommendation would be based on diameter 5' (1.53m) x 3.15 x 5 wraps around = 24.1m. Divided into 3000m roll = 125 bales.
*** Always good to limit the diameter of barley straw (finely cut) to 4'6" bales. As it becomes a force unto itself and expansion is extreme causing problems.
Bale netting is a woven HDPE product, as these polymers deliver a high strength to weight ratio.  High quality resins are used to manufacture high quality polymers and the first stage of the process is heating polymer beads that are blended into a semi-liquid form prior to the extrusion process. Ingredients added to this recipe include Ultra Violet Inhibitor (UVI), colouring, chemical defence protection, lubricant, anti-static solution as well as dispersant to help mix these ingredients evenly.
At the very beginning stage, polymers are extruded (blown and cast extrusion can be used to achieve the maximum elongated strength), into a film and wound onto a jumbo roll, which is later slit into tapes. These tapes are converted to a thread formation to be used in the knitting process. There are two types of thread, the main (warp) and the 'criss-cross' (schusse or weft) threads. The main threads deliver the holding power and containment that is needed around the circumference of the hay bale.
The weft threads are knitted with the warp thread, in a 'wave' type formation. This pattern will allow the netwrap to apply evenly across the bale, for when it is fed onto the hay or silage, as the bale is being formed inside the round baling machine chamber. This ensures maximum spread and places the main threads in an equidistant formation to cover the circumference from one side of the bale to the other.
In the final manufacture process, the threads are formed into the complete netting, it is tensioned and rolled onto the cardboard core. In this process, sensors are used so if any thread is broken or becomes unstitched, it will trigger an alarm / stoppage. The cardboard core is approximately 10mm wider on either end of the wound net roll, to allow to be placed in the machine and feed without obstruction.
Netting is manufactured in three common widths – 1.23m, 1.25m & 1.3m, to suit different machinery and applications, such as over the edge, so no 'tufting' occurs on the edges of the hay bale. A plastic sleeve is placed over the finished roll and two bungs and placed at either end of the core to secure and protect from external factors such as moisture, heat and sun.
We deliver direct to you promptly, Australia wide. Please refer to our distribution page for more information on how we can get a net wrap order to you promptly, at the cheapest price, Australia wide.
Contact us now for a quote and you will likely find the best price net wrap available on the market delivered direct to wherever you are in Australia.
Net Wrap Specifications Table