For the new generation combi "film on film" wrappers, PS PowerFilm caters for this application perfectly. With 1.38m for use in McHale Fusion 3+ machines and 1.28m width for all other net replacement film dispensing machines.
Benefits of using net replacement film
Our Net Replacement Film (NRF) is used efficiently to cover the bales, in lieu of netwrap, and in the process adds more barrier to help in the silage fermentation action. With the outer film then being added where the film is needed, blocking out more oxygen permeation.
This can be done to protect more of the silage material from degradation and mould to give better quality and quantity when feeding the baled silage out. Net replacement film also makes a more 'perfectly even' and 'squarer' bale.
This style of ensiling is the future, not only for quality, but also cuts down the labour required to a 'one man' process, saving valuable work hours.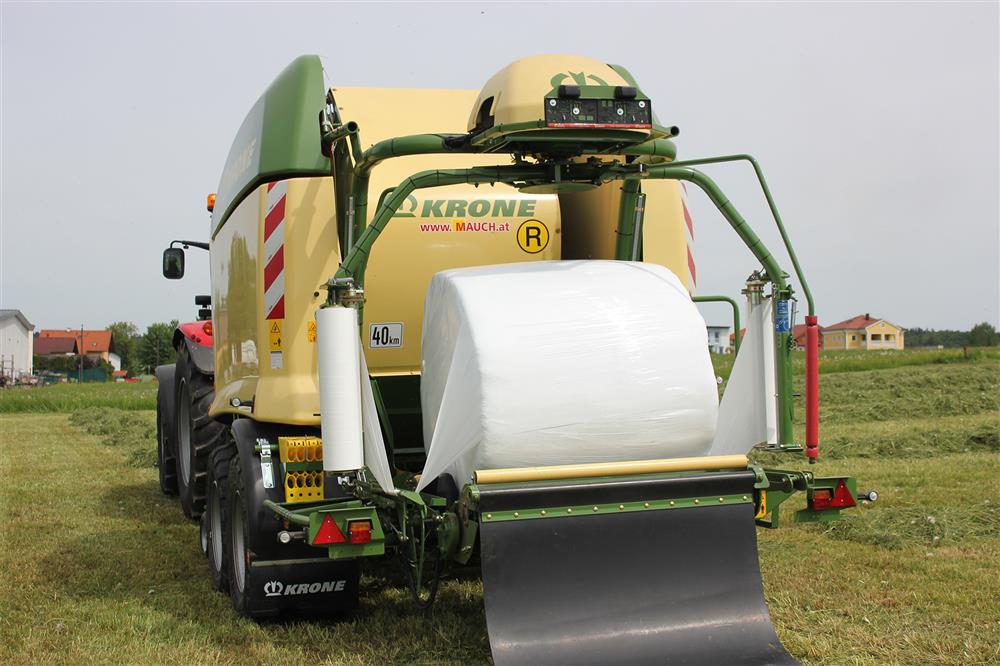 Net Replacement Film in the field
Net Replacement Film Difference to Netwrap
There are several differences between net replacement film (also known as Mantle Wrap), and the older style of netwrap.  Not only in application but also on the effect had on the wrapped material itself.
Bale coverage: Net replacement film provides coverage from one bale edge to edge opposite of the bale, which not only give the bale a better shape and finish, but also provides a stronger oxygen barrier. When trying to achieve fermentation, you want as little oxygen as possible, and this is achieved by wrapping the bale securely in a film. The older style of netwrap was designed to hold the bale together, but doesnt necessarily to provide any additional oxygen barrier, and this is one of the major differences between the two.
Bale strength: When using the older type of netwrap, the main threads can be damaged or broken during handling. This doesn't always necessarily render the product useless, however it does create weak spots. With that comes the high probability of misshapen bales, and also the chance for fodder to protrude from the bale. Again, this is also an ineffective oxygen barrier when it comes time to add the silage cover.
With net replacement wrap, however, there are no weak spots. The overall integrity and strength of the bale is maintained, because it is wrapped in one solid piece, rather than a netting.  This is the advantage of plastic on plastic.
Shape and finish: We understand that looks aren't everything. It's what's inside your silage that really matters. That being said, misshapen bales can present difficulties in transportation, but more importantly if they're not compressed properly, the fermentation process isn't as effective. Unfortunately, that's what can happen with the older style of net wrapping.
Net replacement film, however, creates a more consistent shape and finish to your bales. They'll be better compressed and more cylindrical, which can make it easier during transportation.
Performance under transportation: When transporting bales, it's natural that they get thrown around a bit more than you'd like. This is unavoidable, but that's why it's important to have strong, durable wrapping. Net replacement film creates a tight, cylindrical bale. It's more durable because there's no weak spots, and that means it can stand up to a lot more handling than bales wrapped in traditional net wrap. With less risk of damage, you have a much greater chance of producing high quality silage.
Environmentally friendly: Net replacement film is a much more environmentally friendly option than old net wrap. This is because the wrap used for the inner baling is made from the same kind of industry films or plastic materials as the outer packaging. When it comes time to recycle, it's easy to sort the used packaging. With net wrapping, it's often difficult to sort the fine web-like netting from the actual fodder and silage film.
Time and effort: Net replacement film is made to specifically suit the newer generation of combination round baler machines, or combo bale wrappers. Ultimately, this means the process becomes basically a one-man job, saving valuable work hours and labour costs. This is one of the many reasons why net replacement film is a much smarter choice than traditional net wrap.
If the net replacement film is used efficiently, it can also reduce the film that is being applied on the secondary layer, by substituting the first cycle of film.
Net Replacement Film Specifications Table