Baler Twine - Big Square and HD Twine
Our big square baler twine and HD twines all come out of Europe and are manufactured to an exacting standard of the highest quality available on the market.
Using only high-grade polymers, our range of big square baler twines and HD twines encompass high tech performance, excellent knot strength along with exceptional grip providing a solution for every baling demand.
We provide a baling twine for every machine right up to the Ultra High-Density balers where performance is absolutely critical and no short cuts can be taken on strength and knot slippage. Coming in a range of high visibility colours, our baling twine range offers solutions to every baling requirement. From the everyday and standard big square application, right through to the most challenging HD twine conditions.
Our range of big square baling twine comes in two different options, ensuring that all applications are covered. Firstly, you can choose the light-duty big square twine which offers a 210kg knot strength. This is still plenty for large bales, however is most commonly used with less challenging materials. Known as the Golden Boy, this is exceptional value for money and has plenty of softness to prevent slippage.
Secondly, we have the standard big square baling twine, the Green Machine which offers a 245kg knot strength. For the most complex baling operations, this is the best option to choose. A round, unform twine that also has plenty of softness for reduced slippage.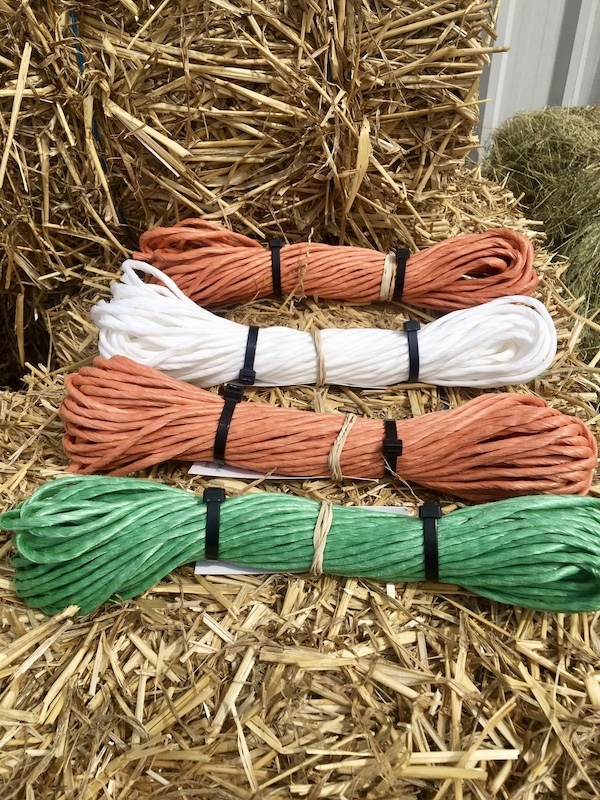 High-density baling twine is perfect for more modern machines that require high-density, high-tensile materials. The Terracotta Warrior boasts a 275kg knot strength, making it suitable for almost all HD applications. You get a generous 2100m per pack.
When you want to push your machine to the extreme and take advantage of its full potential, you need ultra-HD baling twine to ensure the best results. The White Knight stands up in challenging conditions and features a 300kg knot strength to handle even the toughest jobs.
For those extra heavy-duty jobs, we've got our range of Extra Ultra HD baling twine. If you're working in challenging circumstances for applications such as straw baling, you'll love the 320kg knot strength provided by the Bale Master. If you're using balers like the Krone, Massey or Claas high-density machines, this highly visible orange twine is perfect.
Get the perfect twine every time
Please see our table below for our big square twines and HD baling twines range overview. This should help you choose the right baling twine for every individual operation. If you're not sure what to use, or you've got a baling machine that you're unfamiliar with, we're always happy to help. For big square, small square and round baling, we've got all of the products you need.
We've got depots all over Australia and can deliver fast, no matter where you are. Don't hesitate to contact us to find out more on the specific application for each of our baler twine products.
Bailing Twine Specification Table