Small Square Baling Twine and Round Baler Twine
Our baling twine offers you fuss-free, reliable baling results every time. Excellent linear strength, knot strength and an excellent grip means better results all the time for the user and that is what we offer you with our bale twine products range.
Excellent quality polymers ensure smooth running and operation. Coupled with generous meterage on the spools, we provide high performance products in both our small square and round bale twines.
Our baling twine is treated for the high UV conditions of Australia, so our bale twine will last and stand the test of time, even in the harshest of Australian environments. That's the benefit of buying local.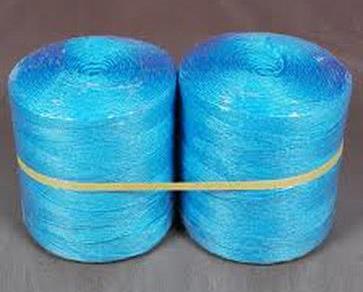 Small Square Baling Twine
Our range of baling twine
Here at Silage Wrap Australia, we've got you covered for all your baler twine needs. We stock a range of twines to cover all machinery makes and models, and we can assist to match the requirement to your machinery.  We keep a range of small square baler twines and round bale twine, all at affordable prices.
Our small square baling twine has an 80kg knot strength, and comes with two spools to a pack. Each pack adds up to 4500m of twine, and if you buy by the pallet, each pallet includes 80 packs (160 spools).
Our round bale twine comes with two spools to a pack. Each pack adds up to 8500m of twine, and if you buy by the pallet, each pallet includes 60 packs (120 spools).
We only stock the highest quality baling twine in Australia, because we understand how harsh the Australian conditions can be. Our baling twine stands up to the heat, and is specifically treated for high levels of UV resistance.
If you're unsure exactly what you need, feel free to give our friendly team a call. Our specialists are always available to discuss your needs, and we pride ourselves on being able to deliver the right solution for your requirements.
There are several types of baling twine out there, and each has its own special place in agriculture. However, it ultimately depends on the types of bales you want to make, and the machinery you've got available.
Basically, baling twine fits into three standard categories:
Baling twine is generally suited to a specific type of machinery and application, and this is where the choice becomes somewhat easy. We'll assist you to get the right type of baling twine for the machinery you have.
The other consideration, but not so much for small square and round bales, is the size and compression of bales. As technology and machinery advances, so does the ability to compress bales, essentially making them heavier while remaining the same size. With that extra compression comes a need for higher density bale twine in a big square application. Well, stronger bale twine all around, because it's got to be able to hold an ultra-compressed bale in place.
Generally, you have two different bales shapes – round and square. Both round and square bales usually come in a standard size where the twine is not really challenged due to lower bale compression. Some people prefer a thicker small square baler twine for the simple reason that it is easier on the hands when loading or transporting.
Then, in big square applications, we start at a couple of varieties in standard big square twine applicaations, moving into the high density and ultra high-density twines, suitable for machines such as Krone and Massey Fergusson.  When you're using some of the newer machinery on the market with the capability to compress more product into a denser, yet heavier bales, you move into the heavy weight division, where we excel.
Please don't hesitate to get in touch with us now for a quotation on your requirements and we will provide you most likely the best price and highest quality baling twine, delivered direct to you, anywhere, Australia wide. Our experts are always on hand to give you the right advice and discuss your individual needs. Here at Silage Wrap Australia, we're all about making life easier for you. Everything you do in an agricultural setting is hard work, and we're here to help lighten the load. So, please contact us today for all your bale twine needs. We're happy to help.
Baling Twine Specifications Table